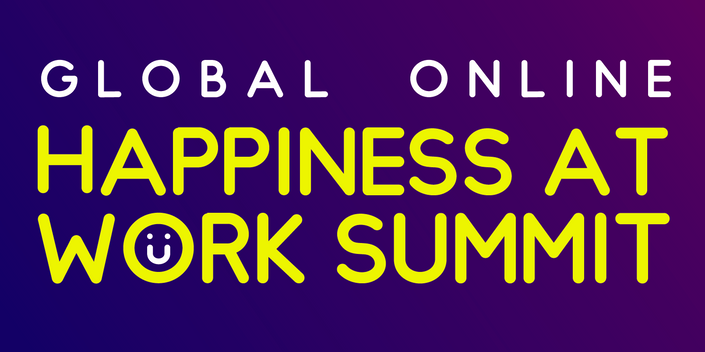 Global Online Happiness at Work Summit 2021
Get Inspired & Take Action!
Join us for the Global Online Happiness at Work Summit 2021 from 20 September - 26 September 2021
Why? Because happiness at work is more important than ever.
Welcome to the Global Happiness at Work Summit 2021. The world of work has changed forever, and as we navigate our way out of the pandemic, focussing on the practices of happiness at work, will help you, your teams and your organisations.
Our goal is to help you to create and increase happiness at work. If you are leading a team or an entire business, guiding clients or simply seeking to increase your own levels of happiness at work, we have a wealth of information to share with you.
For 2021 we have 6 themes on the most important topics in the workplace today, join us as we discuss the topics:

Psychological Safety
Mental Health and Happiness at Work
How to build a positive work culture in our new way of working
Financial Happiness
Flexible Working
Diversity, Equity & Inclusion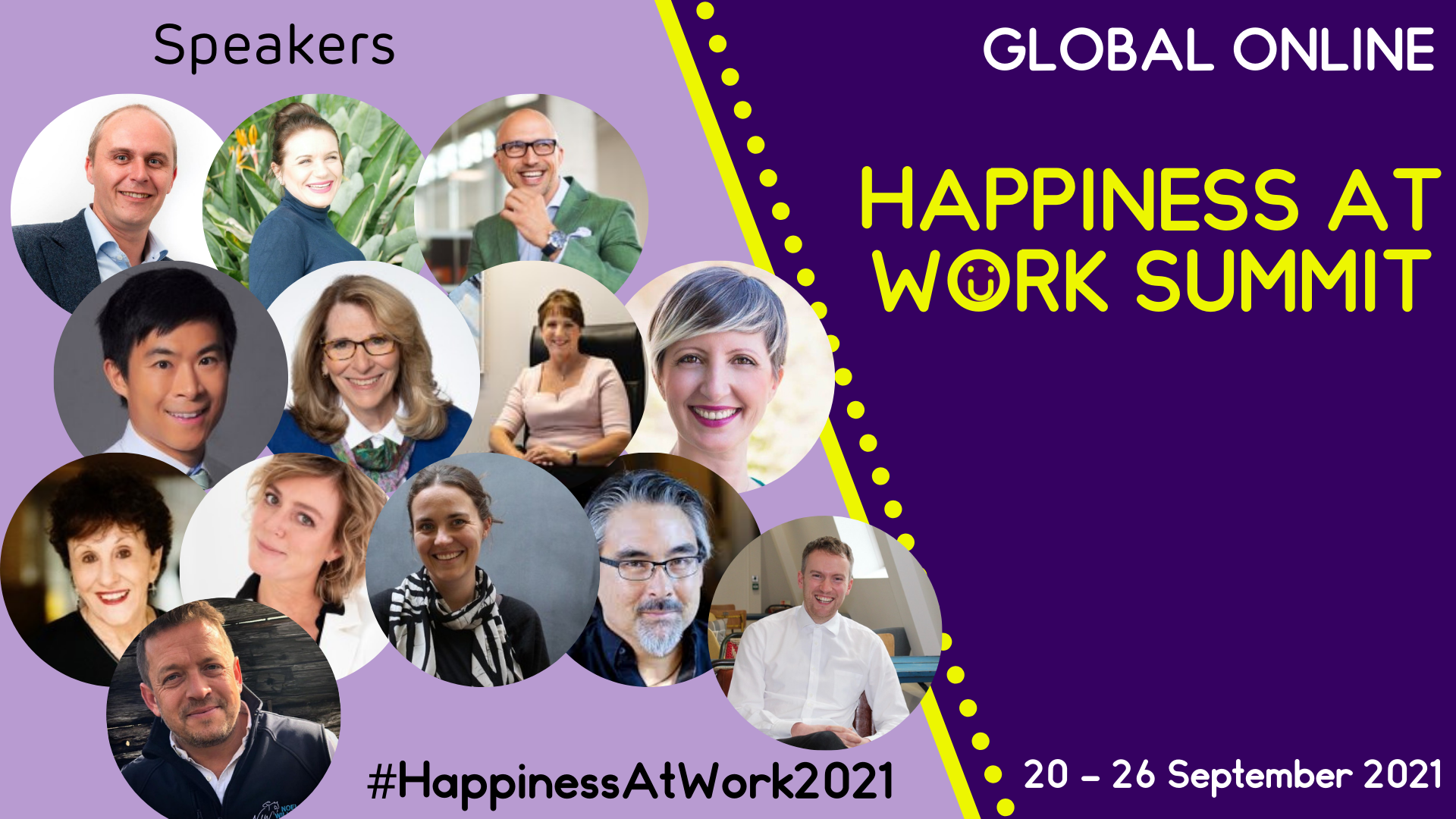 The Summit will be running this year, from Monday 20th September through Sunday 26th September.

Covid-19 has changed our world tremendously. Our view on where and how to work has shifted and we face new challenges like mental health issues due to lack of (financial) certainty, belonging, connection and engagement. We are searching for new ways to feel fulfilled, to find meaning and psychological safety. Big themes like how to build a culture in hybrid organisations and diversity, inclusiveness and equity are more relevant than ever.
The Summit 2021 addresses these themes and takes a look at what you can do to face it in our new world of working.

This event is for leaders and managers of all levels including C-Level executives, HR professionals, consultants, change makers and individuals who would like to:
💡 Increase their own happiness at work.
💡 Access the latest thinking.
💡 Hear real life success stories.
💡 Understand the scientific research and evidence.
💡 See how happiness increases employee retention, productivity, sales and service.
💡 Lead with happiness and create a happier, healthier workplace and team culture.
💡 Understand how to make a difference.


If you are passionate about creating fundamental and sustainable change for your clients, your workplace and yourself, the summit will provide essential resources, full of ideas and inspiration.
The 2021 Online Happiness at Work Summit will be held from September 20-26, 2021 and registration is free.

All content will be available for free during the week of September 20-26.
With an All Access Ticket you benefit from the content during 1 year! And as always, the early bird gets the worm...
Buy your ticket
before September 20, and pay 45 $
from September 20, and pay 59 $
Our goal is to help you to take informed action towards increasing happiness at work for yourself and those you are responsible for. We will share inspirational presentations, informative content and best practices that you can replicate. We will connect you with people who share your interest in and passion for happiness at work. Most importantly we will help you to take action.

By watching the presentations you will:
✔️ Learn how the world's top happiness at work practitioners create meaningful change in organisations across the globe.
✔️ Experience a wide range of leading edge happiness at work approaches and change methodologies.
✔️ Create new connections and friendships with other transformational coaches, speakers, thought leaders and professionals from around the world.
✔️ Deepen your understanding of the science behind Happiness at Work including psychology, sociology, neuroscience and management studies.


Participation will lead to:
✔️ Inspiration: Be inspired and learn how to actually use the tools you learn to make changes that stick.
✔️ Information: Get access to information about the theories, the science and some examples of how to get started.
✔️Connection: Build new connections and friendships with other transformational coaches, speakers, thought leaders and professionals from around the world.
✔️Motivation: Get practical tips and start making a difference.

Meet our top speakers!
Kay Formanek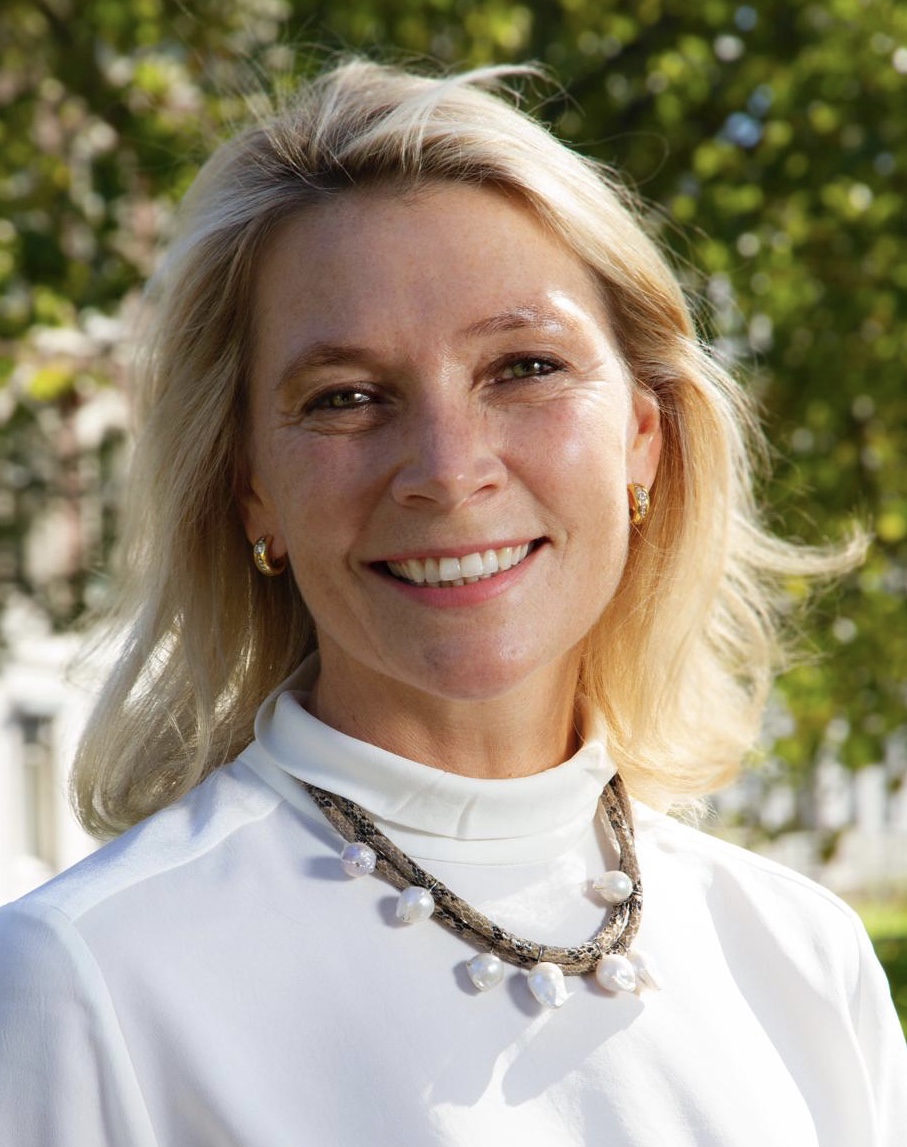 Kay is a global speaker on Diversity and Inclusion, visiting lecturer at leading business schools and Founder of Diversity and BV, a company committed to unleashing the power of Diversity Performance within organizations around the world. Within this role, Kay offers advisory and research services, including coaching for inclusive and strategic diversity leaders. The Neuroscience of Unconscious Bias and Diversity Leadership are the pillars of her work. Her proven approach to leading diversity strategically draws on extensive research and advisory work with over 50 organizations. Her book "Beyond D&I: Leading Diversity with Purpose and Inclusiveness" is due to be released in December 2021.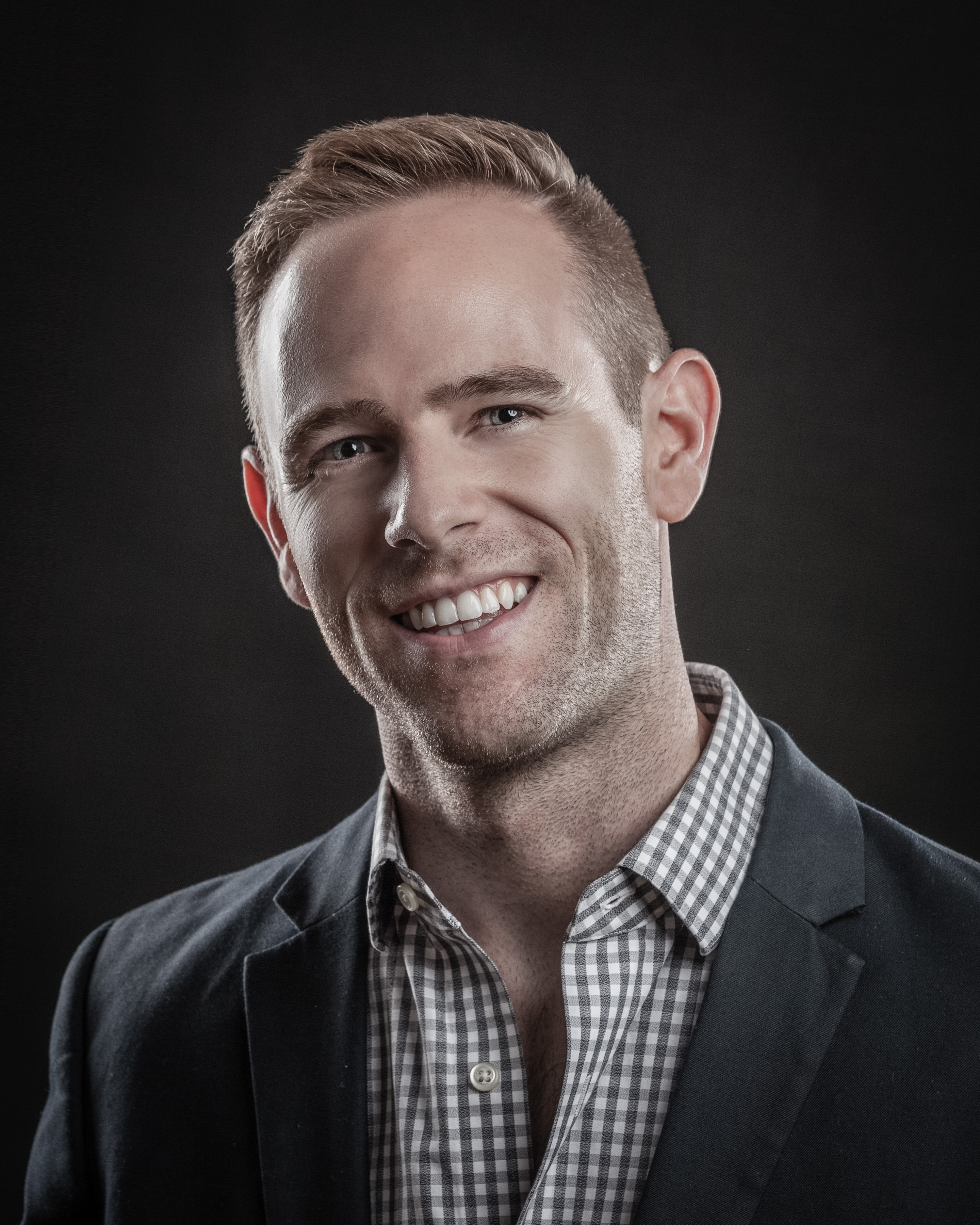 Arthur Woods
Arthur is a social entrepreneur and LGBTQ+ leader working at the intersection of equity, inclusion and technology. He was named to Forbes 30 Under 30 and 40 Under 40 by Business Equality Network (BEQ). He is the author of the recently released book "Hiring for Diversity"; he is a three-times TED talks speaker and has advised leading brands like Disney and the Smithsonian.
He is the Co-Founder of Mathison, a venture-backed technology platform which equips employers with everything they need to manage their diversity hiring efforts. He is also the creator of the first Equal Hiring Index to assess and benchmark inclusive hiring practices.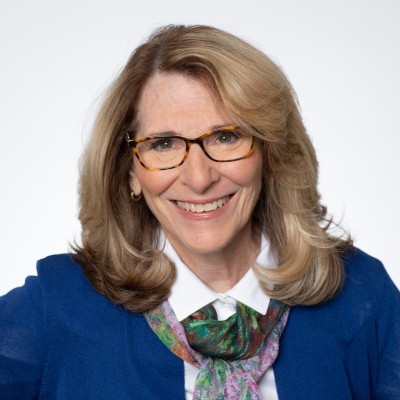 Janice Litvin
Janice Litvin is on a mission to help leaders and teams banish burnout in their organizations. She does this through keynote speeches, workshops, and accountability groups.
As an award-winning speaker, certified virtual presenter, and official SHRM Recertification Provider, she wants to help as many people as possible take care of their physical and mental health, including teaching them to manage stress to prevent burnout, fall in love with fitness, and eat healthier. In these ways, she is helping people change their lives. She has developed unique strategies to maximize engagement in workplace wellness and has also developed a stress management methodology available through her workbook, Banish Burnout Toolkit™.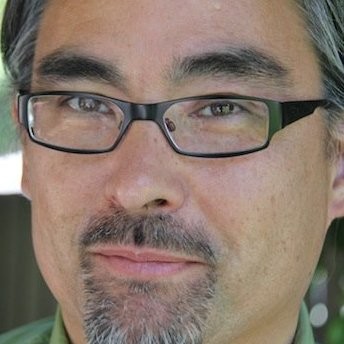 Alex Soojung Kim Pang
Alex has spent two decades studying people, technology and the worlds they make.A silicon valley-based futurist and consultant, he has worked with governments and Fortune 500 companies; spoken at venues ranging from CIA headquarters to Shakespeare's globe Theatre to the Googleplex; and held academic positions at Stanford and Oxford Universities.
His last book, Rest: Why You Get More Done When you Work Less was published in 2016. And just in time for 2020 Alex published Shorter: How working less will revolutionise the way your company gets things done.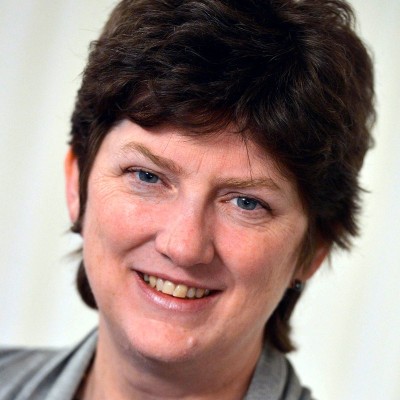 Sarah Jackson, OBE
Work-life balance and flexible working expert
Sarah is a leading authority on work-life issues in the UK. For over 25 years she has shaped family-friendly policy, legislation and public attitudes. As CEO of the work-life charity Working Families until 2018, Sarah built up an unparalleled track-record of highly impactful practical work, research and thought leadership on issues around gender discrimination at work, family friendly and flexible working best practice, and of policy development.
She was awarded an OBE for services to quality of life issues in 2007 and was appointed as a Visiting Professor at Cranfield University School of Management in 2019.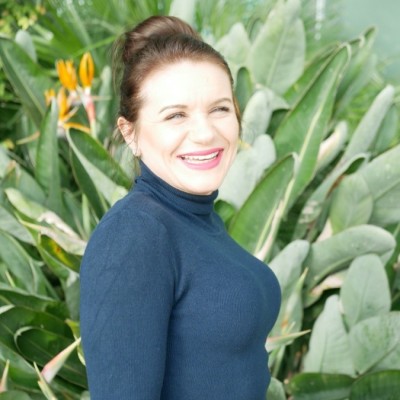 Sophie Bryan, Ordinarily Different

Sophie is a Chief Culture Curator at Ordinarily Different, a Chartered FCIPD ex-Director of HR and Workplace Culture, an International keynote speaker, Tedx speaker, and has featured on BBC Radio 4 with David Mitchell to discuss meetings, founder of the Montessori Workplace as well as Yoga instructor, Nutritionist and all around work place wellness guru.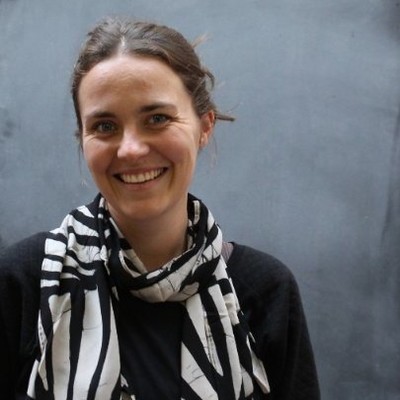 Signhild Thorne, Managing Director of Baobab Batik
Signhild is a Norwegian national who has lived and worked in Eswatini for the past 10 years. She holds a Bachelor degree from the University of Bergen and a Masters degree from the university of Amsterdam, both in Development Studies.

Signhild is passionate about reducing inequalities in our societies, and believes the best way to do this is by creating and sustaining fair employment opportunities.
In 2020 she also became the Managing Director at Gone Rural, and is currently running both businesses.

Woohoo Unlimited, powered by Happy Coffee Consulting, Tryangle, Happy Office NL & Cloud 9 to 5 hosts the Global Online Happiness at Work Summit each year, in partnership with the the International Week of Happiness at Work from 20th to 26th September 2021. Our aim is to bring together the worlds leaders in practicing and teachings on Happiness at Work.
We believe that the future of work is happy and we are part of a movement which is dedicated to making happy workplaces the norm, and not the exception.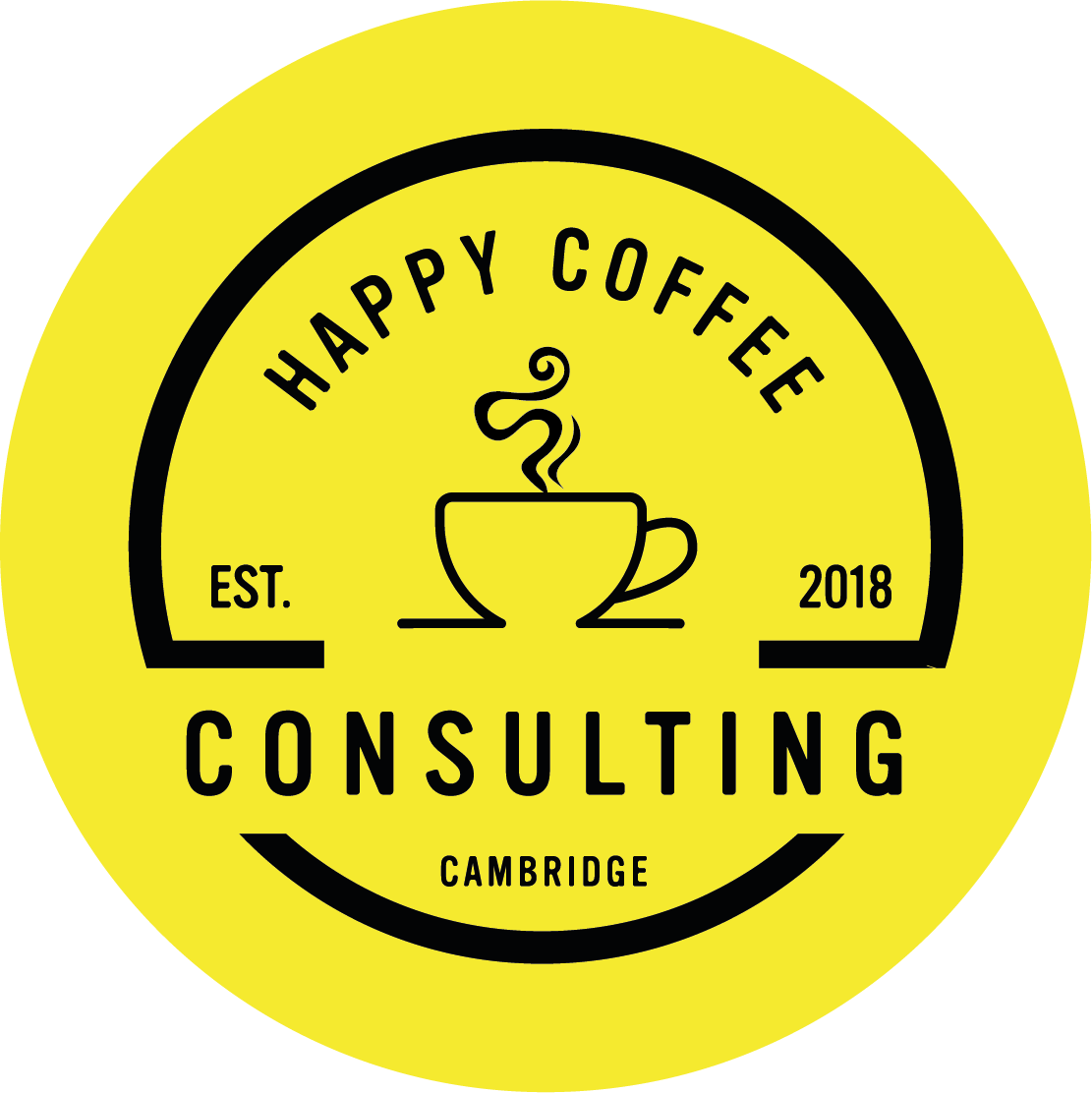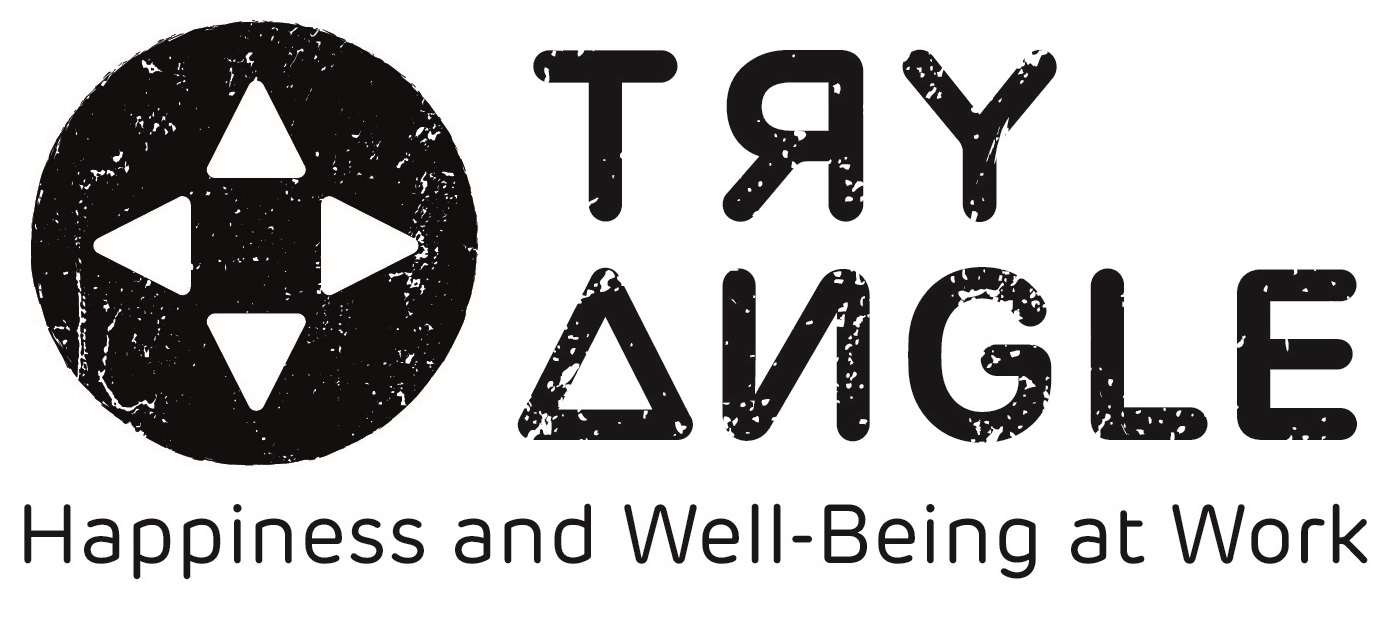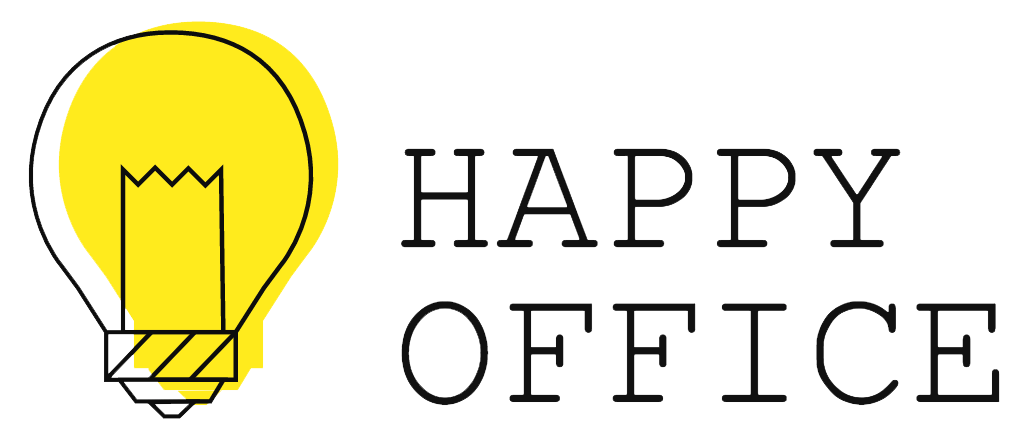 Frequently Asked Questions
When does the course start and finish?
The Summit will officially begin at 09:00 (CET) on 20th September 2021, the first day of the International Week of Happiness at Work. Access will be provided to participants just prior to the event. Participants who have signed up for a Live Pass will have access during the week of 20th - 26th September 2021 only. Participants who have paid for an All Access Ticket will have access to the material from 20th September 2021 until 1st April 2022 (6 months). In both cases, access is available across any and all devices you own.
How long do I have access to the course?
Participants who have signed up for a Live Pass will have access during the week of 20th - 26th September 2021 only. Participants who have paid for an All Access Ticket will have access to the material from 20th September 2021 until 1st April 20202 (6 months). In both cases, access is available across any and all devices you own.
What if I am unhappy with the course?
We would never want you to be unhappy! If you are unsatisfied with your purchase contact us and we will give you a full refund no questions asked.