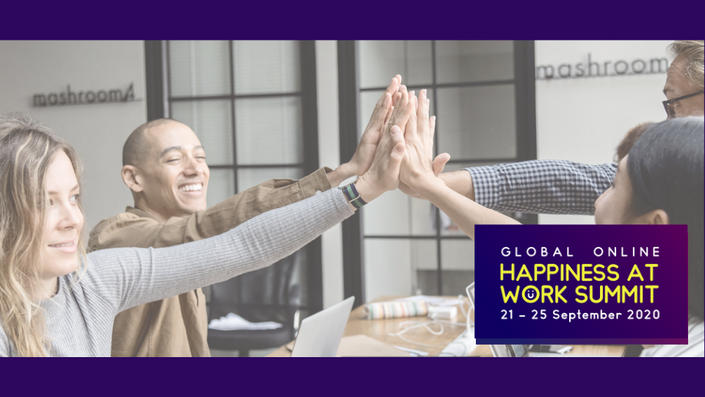 Global Online Happiness at Work Summit 2020
Get Inspired & Take Action!
Join us for the Global Online Happiness at Work Summit 2020
Why? Because happiness at work is more important than ever.
Welcome to the Global Happiness at Work Summit 2020. Our goal is to help you to create and increase happiness at work. If you are leading a team or an entire business, guiding clients or simply seeking to increase your own levels of happiness at work, we have a wealth of information to share with you.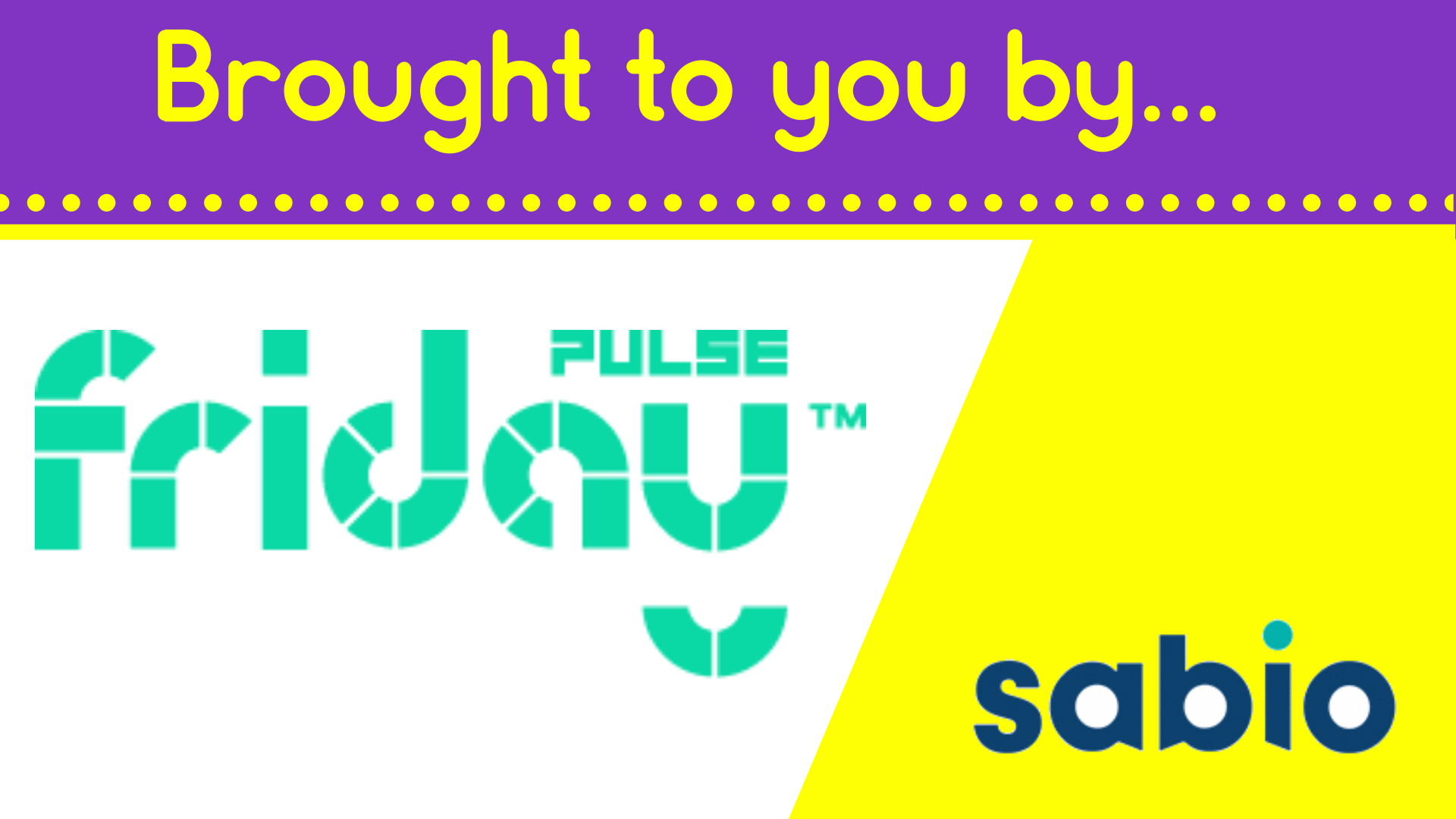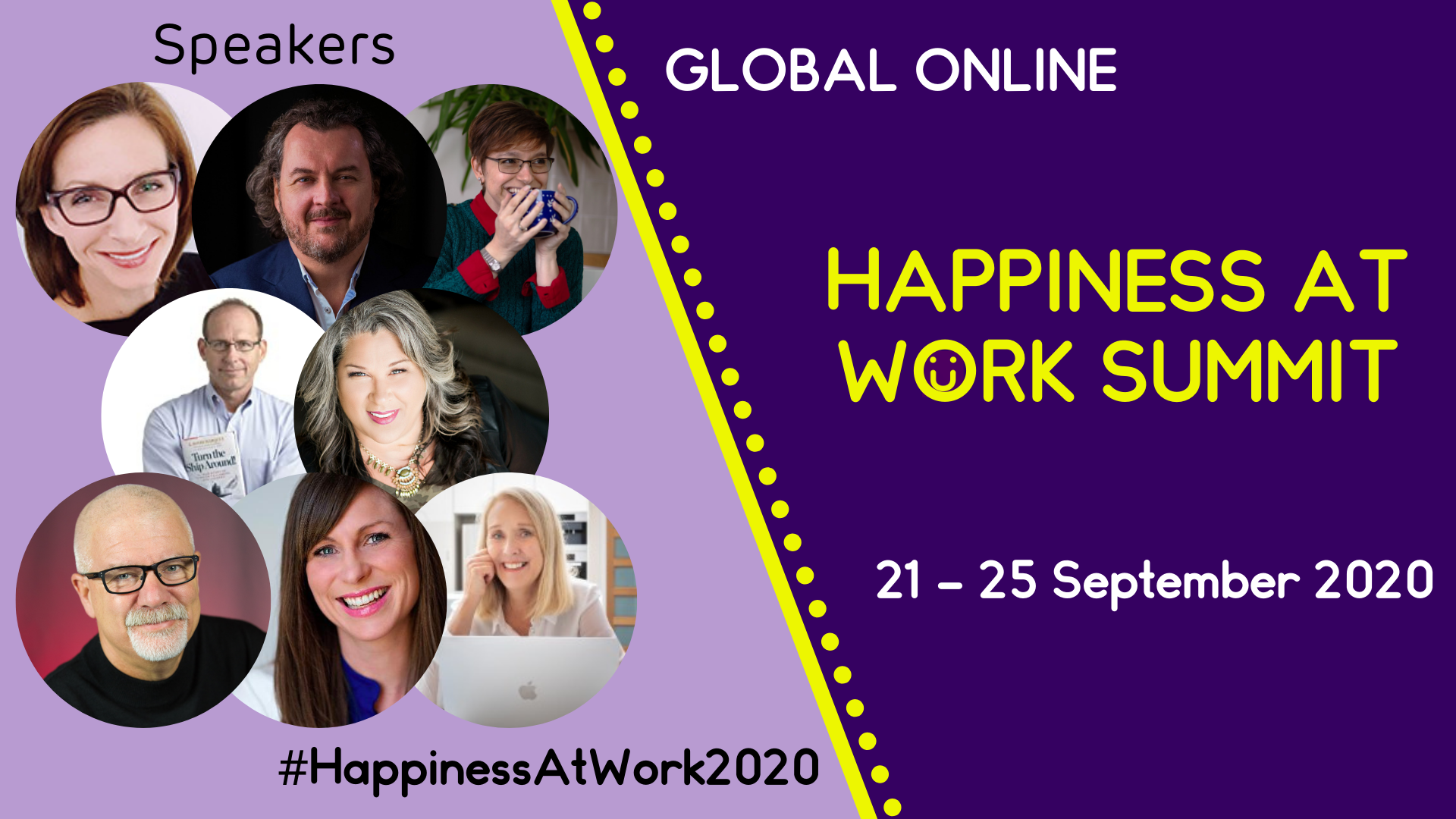 The Summit will be running this year, from Monday 21st September to Friday 25th September.

Our focus this year, is to help you to create happiness at work in our mid COVID crisis world and to highlight it's continued relevance to employees and companies. Everyone needs these elements more than ever. We can continue to promote these ideas, to help people cope and be productive at work, while maintaining good mental health.

This event is for leaders and managers of all levels including C-Level executives, HR professionals, consultants, change makers and individuals who would like to:
💡 Increase their own happiness at work.
💡 Access the latest thinking.
💡 Hear real life success stories.
💡 Understand the scientific research and evidence.
💡 See how happiness increases employee retention, productivity, sales and service.
💡 Lead with happiness and create a happier, healthier workplace and team culture.
💡 Understand how to make a difference.


If you are passionate about creating fundamental and sustainable change for your clients, your workplace and yourself, the summit will provide an essential resource of ideas and inspiration.
The 2020 Online Happiness at Work Summit will be held from September 21-25, 2020 and registration is free.

All content will be available during the week of September 21-25. Should you wish to get unlimited access you can buy an All Access Ticket
valid from September 21st until April 1st 2021.
Ready to learn from the best? Check out our speakers here…
"Having an Open Door Policy was the biggest mistake I ever made as a manager. Stop it now."
CY WAKEMAN
Cy Wakeman is the founder of Reality-Based Leadership. She says that people spend about 2,5 hours every day on drama oriented behaviour (1/3 of a working day): venting, complaining, judging gossiping, etc. It isn't helpful for results and relations, for happiness at work. So this kind of behaviour doesn't add to flourishing people and flourishing organisations. And it certainly doesn't add to psychological safety the base of happy organisations and positive working cultures. So what can you do as a leader to stop this behaviour and led people to take ownership, responsibility and being accountable? Cy Wakeman explains it in this interview.
L. DAVID MARQUET
Former nuclear submarine Commander, author of the Amazon #1 Best Seller: Turn the Ship Around, L. David Marquet imagines a workplace where everyone engages and contributes their full intellectual capacity, a place where people are healthier and happier because they have more control over their work–a place where everyone is a leader. After being assigned to command the nuclear-powered submarine USS Santa Fe–then ranked last in retention and operational standing–he realized the traditional leadership approach of "take control, give orders," wouldn't work. He "turned the ship around" by treating the crew as leaders, not followers, and giving control, not taking control.
"One of the things that limit our learning is our belief that we already know something"
"With lots of happy thriving humans, the world would be a better place"
DR. JENNY BROCKIS
As a kid, Dr. Jenny Brockis loved the Just So story 'How The Elephant Got His Trunk'. Like the elephant, Jenny was insatiably curious about the world. She wanted to know how things worked, why things were 'Just So.' Her curiosity led her to develop a sense of awe and wonder about the human body. Her vision is to empower everyone to be a happy, thriving human. Jenny has presented to and worked with thousands of people to empower them to cultivate a thriving mind, what it takes to stay well and think smart. Seeing the spark of insight in someone's face when they 'get' what they can do for themselves, is what gets her out of bed in the morning. While knowledge is power, knowing how to apply that knowledge is the gold. And that gold you'll find in Jenny's newest book: Thriving Mind.
DAN DIAMOND, MD
Dan Diamond has worked under extreme circumstances. He led the Medical Team in New Orleans after Hurricane Katrina and in Haiti after the 2010 earthquake. He noticed that people show different kinds of behaviours in stressful situations. Some act as victims, others like manipulators or bystanders. And there is a group that acts as a so-called 'leaders'. When you take his theory and translate it to happiness at work, you can see that the behavior, or mindset, of the leader, makes you the happiest. These mindsets are not meant to label others, but 'for internal consumption only'. We all show all four behaviours during the day. In this interview we discuss the four and what you can do to change, how you can help others to take ownership for results, relationships, and happiness at work.
"People perform best when they believe they have the power to make a difference and a conviction to put other people first"
"Two interactive learning feedback loops are important 'Feeling Fast' and 'Thinking Slow' "
NICK MARKS
Nic Marks is a statistician with a slightly unusual specialty – happiness. For the last three decades, he has been creating measures of people's quality of life – with an increasing emphasis on their emotional experience and happiness. His strong proposition is that by measuring people's happiness, it kick-starts a process that builds happiness. With his business Friday which tracks employee happiness, he is helping businesses build a positive productive work culture. Friday clients who have increased their weekly happiness scores have seen 7% increases in productivity and 17% falls in staff turnover. If you want to discover how this is possible, come and listen to his story during the Global Online Happiness at Work Summit!
DR. LOUISE LAMBERT
Dr. Louise Lambert, PhD., is a Registered Psychologist with 20 years' experience in counseling centers, mental health, not-for-profit organizations, higher education, and primary healthcare organizations. She is currently teaching the first Happiness and Wellbeing class at the UAE. She also conducts research and develops positive psychology intervention programs, many of which have been used in the UAE, Kuwait, and Saudi Arabia. She is also the Founder and Editor of the Middle East Journal of Positive Psychology and the author of the first regional textbook in positive psychology (Springer, 2019), and general psychology (Cambridge, 2018).
JENNIFER MOSS
How important is trust to creating a happy work culture? According to Jennifer Moss - member of the UN Global Happiness Council, frequent writer for Harvard Business Review and SHRM, and bestselling author of "Unlocking Happiness at Work" – "everything flows through trust". From effectively managing stress and staving off burnout, to inspiring innovation, to enabling a team to thrive in a time of extreme change, the essential role that trust plays cannot be overstated. Thankfully, there are some simple yet effective ways leaders and employees can boost trust at work. In this interview, we discuss some of these impactful ideas and offer guidance on where to start.
LISA ZEVI
Lisa Zevi is a small business coach, TEDx speaker and author of the Amazon Number 1 bestselling book ' The REAL Entrepreneur: How to simplify, grow and enjoy your business'. She works with business owners to help them get organised, with the right people doing the right things, so they can free up their time to focus on growth. You can connect with Lisa on social media or at www.lisazevi.com. At the summit, we will have a chat about how to focus, so we can be more effective.
and many more!
Course Curriculum
Theme 1: Basics about Happiness at Work
Available in days
days after you enroll
Theme 2: Autonomy in the workplace
Available in days
days after you enroll
Our goal is to help you to take informed action towards increasing happiness at work for yourself and those you are responsible for. We will share inspirational presentations, informative content and best practices that you can replicate. We will connect you with people who share your interest in and passion for happiness at work. Most importantly we will help you to take action.

By watching the presentations you will:
✔️ Learn how the world's top happiness at work practitioners create meaningful change in organisations across the globe.
✔️ Experience a wide range of leading edge happiness at work approaches and change methodologies.
✔️ Create new connections and friendships with other transformational coaches, speakers, thought leaders and professionals from around the world.
✔️ Deepen your understanding of the science behind Happiness at Work including psychology, sociology, neuroscience and management studies.


Participation will lead to:
✔️ Inspiration: Be inspired and learn how to actually use the tools you learn to make changes that stick.
✔️ Information: Get access to information about the theories, the science and some examples of how to get started.
✔️Connection: Build new connections and friendships with other transformational coaches, speakers, thought leaders and professionals from around the world.
✔️Motivation: Get practical tips and start making a difference.


Woohoo Unlimited, powered by Happy Coffee Consulting, Tryangle, Happy Office NL & Cloud 9 to 5 creates this Global Online Happiness at Work Summit, in partnership with the the International Week of Happiness at Work from 21st to 25th September 2020. Our aim is to bring together the worlds leaders in practicing and teachings on Happiness at Work.
We believe that the future of work is happy and we are part of a movement which is dedicated to making happy workplaces the norm, and not the exception.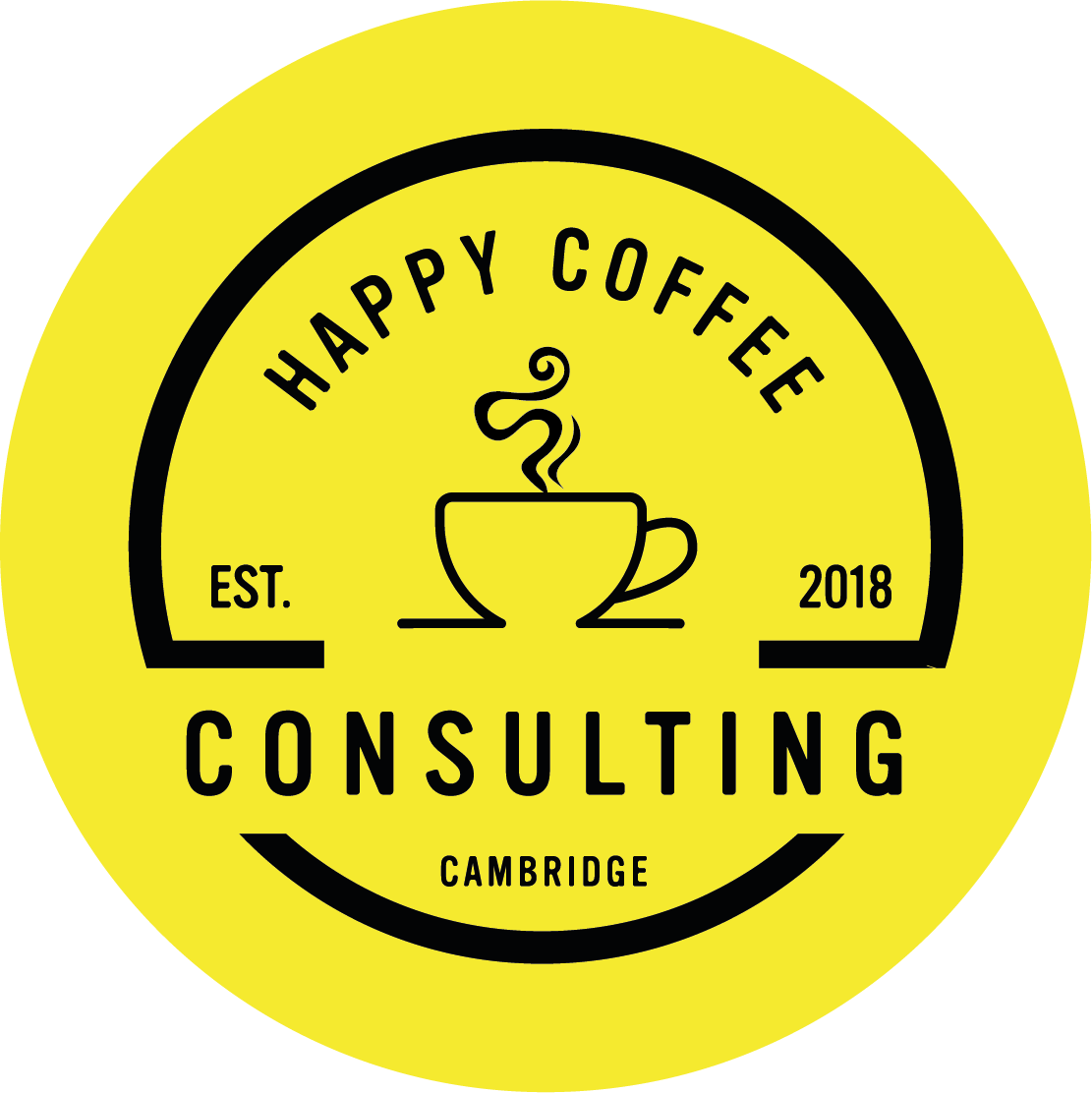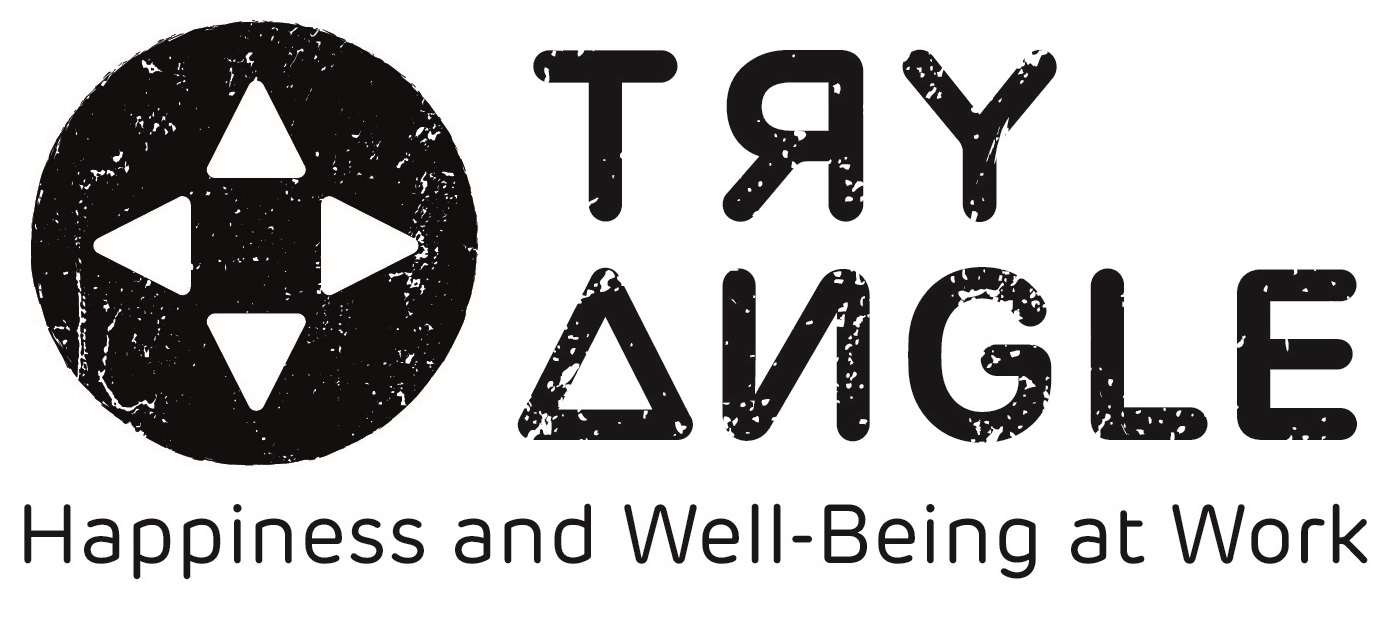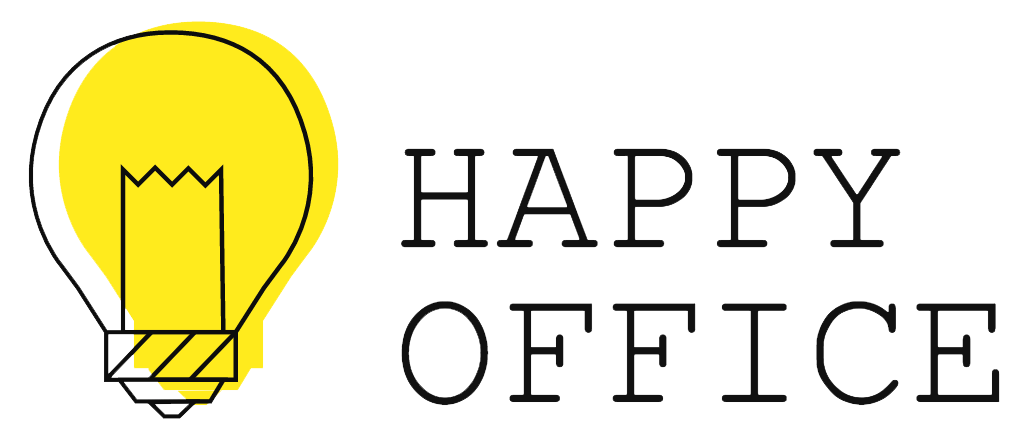 Your Weekly People Check-up
Friday Pulse™ is designed to score happiness through research and insights from behavioural psychology and systems thinking. Through The Five Ways to Happiness at Work, we track the drivers of happiness while our predictive people analytics provides you with the insights you need.
Stay ahead with brilliant customer experience
Sabio provides the expertise and solutions you need to respond to the ever-changing needs of your customers. Then with our analytics and insight, we'll help you improve visibility, responsiveness and control across all your customer-interaction channels.

Frequently Asked Questions
When does the course start and finish?
The Summit will officially begin at 09:00 (CET) on 21st September 2020, the first day of the International Week of Happiness at Work. Access will be provided to participants just prior to the event. Participants who have signed up for a Live Pass will have access during the week of 21st - 25th September 2020 only. Participants who have paid for an All Access Ticket will have access to the material from 21st September 2020 until 1st April 2021 (6 months). In both cases, access is available across any and all devices you own.
How long do I have access to the course?
Participants who have signed up for a Live Pass will have access during the week of 23rd - 27th September 2019 only. Participants who have paid for an All Access Ticket will have access to the material from 23rd September 2019 until 27th March 2020 (6 months). In both cases, access is available across any and all devices you own.
What if I am unhappy with the course?
We would never want you to be unhappy! If you are unsatisfied with your purchase contact us and we will give you a full refund no questions asked.