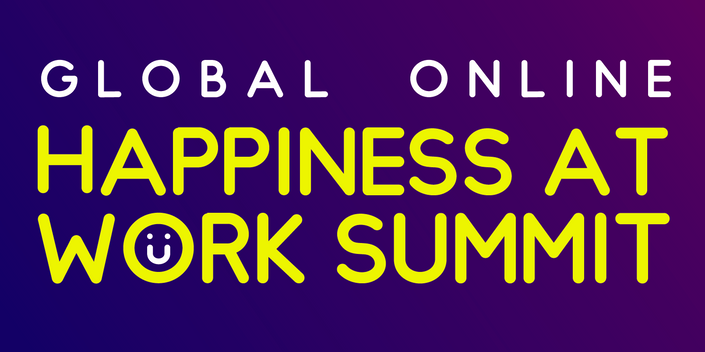 Global Online Happiness at Work Summit 2022
Get Inspired & Take Action!
Join us for the Global Online Happiness at Work Summit 2022 from 19 September - 25 September 2022
Imagine a world where going to work fills you up, giving you energy and fulfilment that spills out into your home life, your community, and the wider world. This summit aims to inspire you to go out and build that kind of world.
Welcome to the Global Happiness at Work Summit 2022!
The world of work has changed forever. As we navigate our way out of the pandemic, businesses that prioritize their employees' health, happiness and wellbeing are the ones that will come out on top.
Our goal for this summit is simple: to enable you to create a better work experience for yourself and those around you. Whether you're leading a team or an entire business, guiding clients or simply seeking to improve your own workplace experience, we've got a wealth of information to share with you.
As always, we will be selecting Summit themes, topics and interviews based on what's most relevant and impactful for the current business climate. We're in the process of finalizing these themes, so stay tuned to find out more!
Who should attend the Summit?
If you are passionate about creating fundamental and sustainable change for your clients, your workplace and yourself, then you're in the right place!
This event is for leaders and managers of all levels including C-Level executives, HR professionals, consultants, change makers and individuals who would like to:
💡 Increase their own happiness at work.
💡 Enhance the employee experience within their team or organization.
💡 Lead by example and create a happier, healthier workplace culture.
💡Understand how a happier workplace can increase employee retention, productivity, sales and customer service.

What you'll get out of the Summit
This Summit provides helpful resources, ideas, tools, exercises, and research so you can take a clear and impactful approach to enhancing the employee experience. We'll share inspirational presentations, informative content and best practices that you can replicate. And most importantly, we keep it simple to enable you to take action. Some of the things you can get out of the Summit include:
learning about the latest research and trends related to the employee experience.
hearing real life success stories from companies that have prioritized workplace happiness.
getting advice from some of the world's top workplace happiness practitioners on how to create meaningful and lasting change in the workplace.
having the opportunity to create new connections with workplace happiness professionals, thought leaders, and other like-minded people from around the world.
gaining insight on leading edge workplace happiness approaches and change methodologies.
deepening your understanding of the science behind happiness at work, including psychology, sociology, neuroscience and management studies.
The 2022 Online Happiness at Work Summit will be held from September 19-25, 2022 and registration is free.

All content will be available for free during the week of September 19-25.
With an All Access Ticket you benefit from the content during 1 year! And as always, the early bird gets the worm...

Woohoo Unlimited, powered by Happy Coffee Consulting, Tryangle, Happy Office NL & Cloud 9 to 5 hosts the Global Online Happiness at Work Summit each year, in partnership with the the International Week of Happiness at Work from19th to 25th September 2022. Our aim is to bring together the worlds leaders in practicing and teachings on Happiness at Work.
We believe that the future of work is happy and we are part of a movement which is dedicated to making happy workplaces the norm, and not the exception.